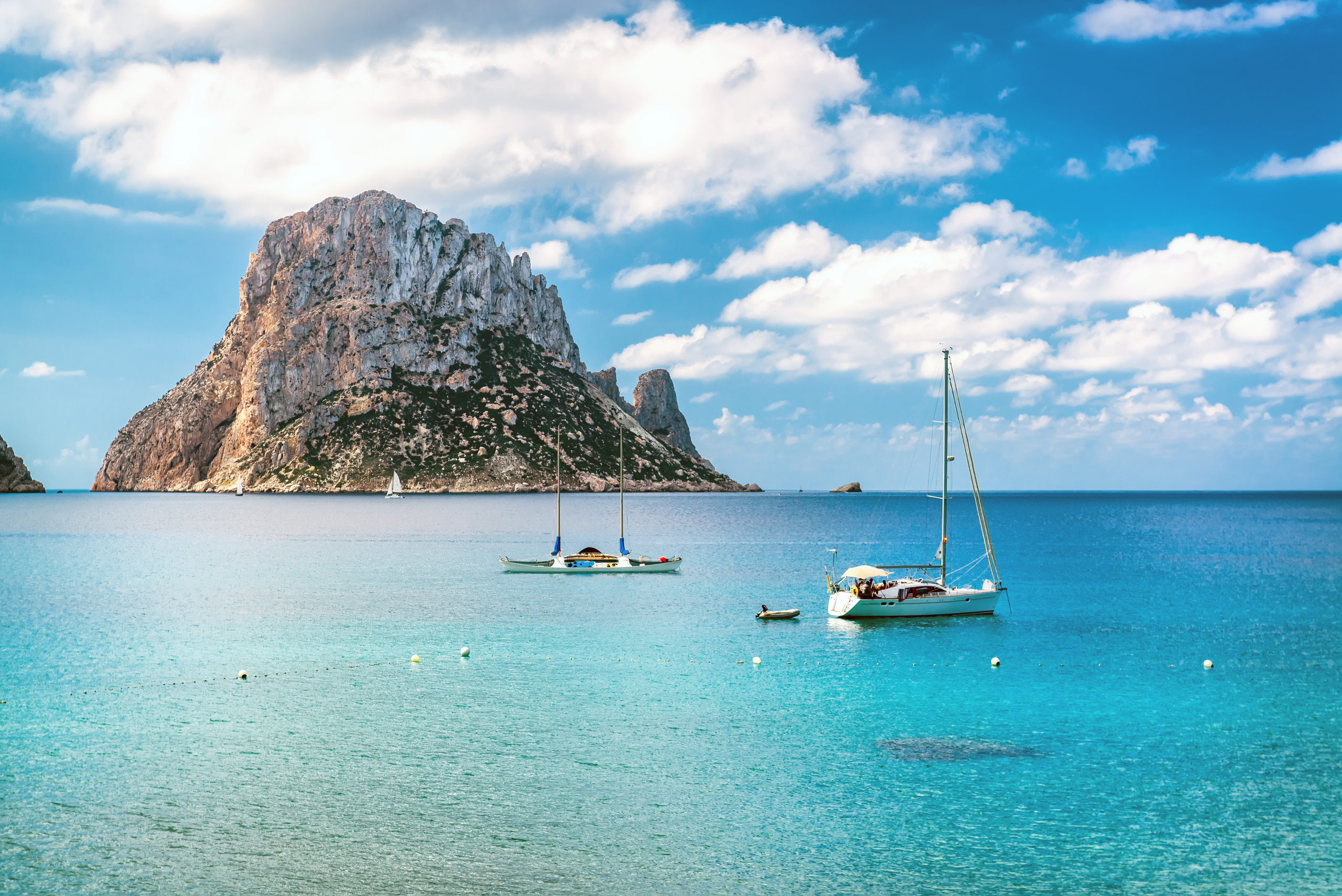 IBIZA
Ibiza Town
Ibiza Town is a medieval city. The walled part of the city (Dalt Villa) is located on a hill. Picturesque whitewashed houses, a large stone gate with a steep entrance and stairs determine the cityscape. The vibrant part of the city can be found in the Sa Penya district of Carrer de La Verge. In the relatively new part you will find the Vara del Rey boulevard, with modern shops, bars and restaurants.
Dalt Vila
Dalt Vila is the old city center of Ibiza Town with the harbour "La Marina" nearby. The city center has partially excavated historic walls from the 16th century. From all over the city, the cathedral "Santa Maria d'Eivissa stands out stately above it, because it lies on top of Dalt Vila. It is a vibrant and authentic district!
Formentera
The island Formentera is located seven kilometres south of Ibiza. The island is known for its white sandy beaches and the freedom of nude sunbathing! From Sant Joseph de sa Talaia you can see the island, just like Es Vedra and Es Vedranell, two other idyllic islands. Take a boat trip to one of these islands.
Atlantis & Es Vedra
Es Vedra is a rock island southwest of Ibiza. It is an uninhabited island with meters of rock walls that nobody dares to climb. There are plenty of stories about Es Vedra going around. According to these stories, the island consists of a strong magnetic field, causing that compasses do not work there. According to locals, the island could be the top of the sunken city "Atlantis". A magical piece of Ibiza with beautiful viewpoints. Definitaly worth a visit!
Other tips...
Would you like to visit another atmospheric place? Then go to Santa Eulalia del Rio where you can stroll along the promenade and people can watch. In addition, visit the church Es Puig de Missa in Santa Eulalia del Rio, or one of the other attractions on the island including: Torre d'en Valls, Cap des Llibrell or Las Salinas. Las Salinas is located right next to the resort and is a beautiful nature reserve with salt plains where you can spot flamingos, among other things!
San Antoni De Portmany
A much visited place is San Antoni de Portmany (San Antonio), a former fishing village with nice terraces, trendy clubs and beautiful beaches! It is said that Columbus was born here. Finish your visit with a drink at Café del Mar in a fairytale setting at sunset.
Hippie markets
Cozy hippies, relaxing music, artisanal jewellery, fun boots and much more. There are many great hippie markets on Ibiza! In Es Canar you will find the largest with 500 stands called Punta Arabi and is open every Wednesday from 10 AM to 6 PM. Another large hippie market is Las Dalias in Sant Carles de Peralta with around 200 stands, open on Saturdays from 10 AM to 8 PM.
Cala de Benirràs
Northeast of the town of Port de Sant Miquel you will find a relaxing place, where the sea is very clear. On Sunday, drummers (hippies) gather here around sunset to "jam" with each other. A mini hippie market with jewellery, dresses and much more arises. If you want the ultimate hippie feeling, in addition to a visit to the hippie market you definitely should visit Cala de Benirràs.
Las Salinas
On the south side of the island, next to the Grand Palladium Ibiza Resort & Spa, you will find Las Salinas. In this nature reserve you will find salt lakes where you will usually find many flamingos. What many people don't know is that you can also find the most beautiful sandy beaches in Ibiza in Las Salinas. There are a number of beach clubs where you can relax and enjoy a cocktail. Do you want to relax outside the resort? Then you should definitely visit Las Salinas.